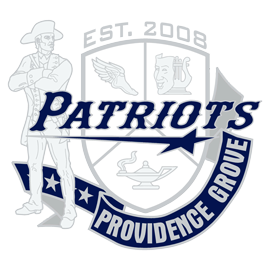 PGHS Mission
Our mission is to work collaboratively to do whatever it takes to inspire and motivate our students and ensure that they are learning.

Randolph County School System Dress Code
Students are expected to adhere to standards of dress and appearance that are compatible with a safe and effective learning environment. The board prohibits appearance or clothing that (1) violates a reasonable dress code adopted and publicized by the board or an individual school, (2) is substantially disruptive, (3) is provocative, revealing, vulgar, or obscene, or (4) endangers the health or safety of the student or others.
Examples of prohibited dress or appearance include but are not limited to, those listed below.
1. Head apparel (hats, headbands, scarves, bandanas, picks, combs, etc.) or sunglasses may not be worn inside the building unless the headgear is worn based on a sincerely-held religious belief;
2. Exposed undergarments;
3. Halter tops, tank tops, spaghetti straps (no bare shoulders);
4. Clothing that exposes the midriff or cleavage;
5. Pants that are baggy or drag the floor (pants/shorts must be worn around the waist);
6. Short shorts or excessively short dresses/skirts;
7. Spandex or other very tight clothing, or excessively oversized clothing;
8. Sleepwear or bedroom slippers;
9. Bare feet